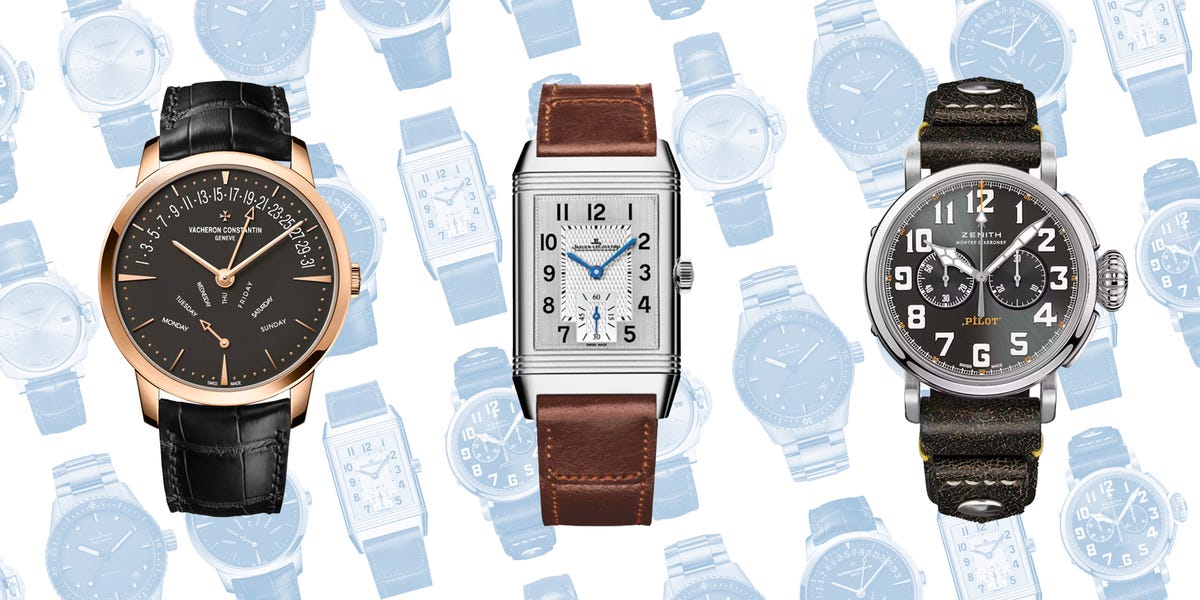 20+ best watch brands for 2021
Centuries before the advent of smartphones, watches served a very practical purpose as efficient, mechanical timekeeping tools. Since then, they have evolved into more than just a function. They are glamorous accessories, status symbols, expensive identity projections and, often, heirlooms passed down from generation to generation. Interested in watchmaking? Here are the best luxury watch brands on the market to know about today. And don't worry if you need a few pronunciation lessons before you buy, we've got you covered.
Advertising – Continue Reading Below
1
Jaeger Lecoultre
Founded in 1833 in the Swiss Jura Mountains, Jaeger-LeCoultre is known for its clever designs. One of its most notable and coveted styles, the Reverso, features a face that turns around to protect itself inside the watch case.
BUY NOW
2
Audemars Piguet
Founded by childhood friends Jules-Louis Audemars and Edward-Auguste Piguet in 1875, Audemars Piguet is perhaps most famous for its Royal Oak collection, which, since its debut in 1972, has become a mandatory status symbol for every A-list from hip hop legends to elite athletes. Now there is competition: in 2019 the brand released a new collection, Code 11.59.
BUY NOW
3
Frederique Constant
Founded in 1988 by Dutch couple Peter Stas and Aletta Stas-Bax, Frédérique Constant's mission is to make refined luxury watches using Swiss techniques, but sold at a relatively affordable price.
BUY NOW
4
Piaget
Georges-Édouard Piaget set up his first workshop on his family farm in the village of La Côte-aux-Fées in the Swiss mountains in 1874, launching the now famous brand to offer the thinnest automatic watch in the world.
BUY NOW
5
Cartier
Louis-François Cartier founded the jewelry brand in Paris in 1847. Seventy years later, his grandson Louis Cartier invented the famous Tank Watch, inspired by a military tank. Several iconic watch models have since followed, including this Baignoire Allongée.
BUY NOW
6
Harry winston
Jeweler Harry Winston is relatively new to the watchmaking game compared to other brands that have been established in Europe for longer. However, the same spirit of innovation that drives the brand's fantastic gems also applies to its timepieces. Take this avant-garde creation, the latest to join the Project Z collection, only 300 of them have been made.
BUY NOW
7
Blancpain
Founded in 1735, Blancpain has the reputation of being the oldest watch brand in the world. In the 1950s, she introduced the Fifty Fathoms dive watches, which were designed in conjunction with French Navy combat swimmers and quickly became the standard for US Navy SEALs.
BUY NOW
8
Longines
Longines was founded in 1832 by Auguste Agassiz and two partners in Saint-Imier, Switzerland, where the company is still headquartered. Its iconic winged hourglass logo is the oldest logo of its kind still used in its original form.
BUY NOW
9
Zenith
Georges Favre-Jacot was only 22 years old when he founded his eponymous watch company in 1865, which he finally renamed Zenith. Over the next century and a half, the brand gathered a number of high profile wearers, including Mahatma Gandhi.
BUY NOW
ten
You sleep
If you think Tudor watches look like Rolexes, you don't see a thing: the brand is a subsidiary of the luxury watch giant, and its timepieces are especially perfect for those seeking the look and feel of a Rolex, without the hefty price tag.
BUY NOW
11
Omega
Founded in 1848, Omega holds the unprecedented title of being the first watch on the moon thanks to Buzz Aldrin, who wore the Speedmaster for his historic feat. Today, it is perhaps best known as the favorite timepiece of England's deadliest weapon: James Bond.
BUY NOW
12
Rolex
Arguably the best-known watch brand, Rolex has many firsts to its credit, including the very first waterproof watch, aptly called the Oyster, which was created in 1926.
BUY NOW
13
Patek Philippe
Patek Philippe consistently tops the list of the world's best watch brands and is a status symbol like no other. Founded in 1839, the Swiss company is the last independent family watch manufacturer in Geneva.
BUY NOW
14
Vacheron Constantin
Vacheron Constantin is one of the oldest luxury watch manufacturers in the world, founded in Geneva by Jean-Marc Vacheron in 1755. The watches, known for their numerous complications, were worn on the wrists of famous personalities such as Napoleon Bonaparte and Harry Truman.
BUY NOW
15
Van Cleef & Arpels
Van Cleef & Arpels' Alhambra motif has been a coveted status symbol since its invention in 1968. This watch is the best of both worlds: an elegant watch and a stunning piece of jewelry, all in one.
BUY NOW
16
Tag heuer
"Avant Garde Techniques" has been the TAG in TAG Heuer since Edouard Heuer launched the Swiss brand in 1860. In 1962, John Glenn wore a Heuer chronometer on the Mercury-Atlas 6 flight, giving the Swiss watchmaker the distinction of being the first in space. Now well known for its sporty silhouettes, TAG Heuer has an illustrious roster of celebrity ambassadors, official and otherwise, including Leonardo DiCaprio, Will Smith, Matt Damon and Tom Brady.
BUY NOW
17
Panerai
Founded as Officine Panerai in Florence in 1860, this Italian watchmaker became known for its bold and sporty cases. From its former role as official supplier to the Royal Italian Navy to its partnership with Ferrari, Panerai timepieces guarantee the best of Italian craftsmanship.
BUY NOW
18
Porthole
The first luxury watch to feature a rubber strap, Hublot is also known for its bold cases. Funny anecdote: the name of the brand means "porthole" in French, it is easy to see where the inspiration comes from.
BUY NOW
20
Chopard
In its early days, Chopard, founded by Swiss watchmaker Louis-Ulysse Chopard in 1860, was known for its pocket watches and stopwatches. Today, the brand's glamorous watches and jewelry are regularly seen on the red carpets of events such as the Cannes Film Festival (official partner of Chopard).
BUY NOW
21
Master singer
One of the youngest luxury watch brands on the market, MeisterSinger was founded in 2001 and is instantly recognizable with its one-handed design, perfect for the wearer who is less focused on the hustle and bustle and more interested in enjoying travel.
BUY NOW
22
Bulgarian
Bulgari is best known for its fine jewelry and luxury goods (especially beloved by Elizabeth Taylor), but don't sleep on watches. The brand created the first jewelry watch and its iconic snake motif, the Serpenti, is legendary. It is also a master of luxury sports watches, as evidenced here.
BUY NOW
23
Breguet
Abraham-Louis Breguet earned his stripes as a watchmaker tasked with making a pocket watch for Marie-Antoinette and later creating a wristwatch for the Queen of Naples. How's that for a resume maker? This spirit of innovation and timeless design continues today.
BUY NOW
24
Verdure Watches
Founded in 2012, Verdure Watches places particular emphasis on comfort, which stems from founder Eddie Johnson's original inspiration that wristwatches should be designed for everyday use. The brand's clever motto says it all: "Time well spent.
BUY NOW
25
Mont Blanc
Cutting-edge craftsmanship is at the heart of every Montblanc timepiece, and particularly in the Montblanc 1858 collection, which is a reinterpretation of Minerva watches from the 1920s and 1930s used for military exploration.
BUY NOW
This content is created and maintained by a third party, and imported to this page to help users provide their email addresses. You may be able to find more information about this and other similar content on piano.io
Advertising – Continue Reading Below