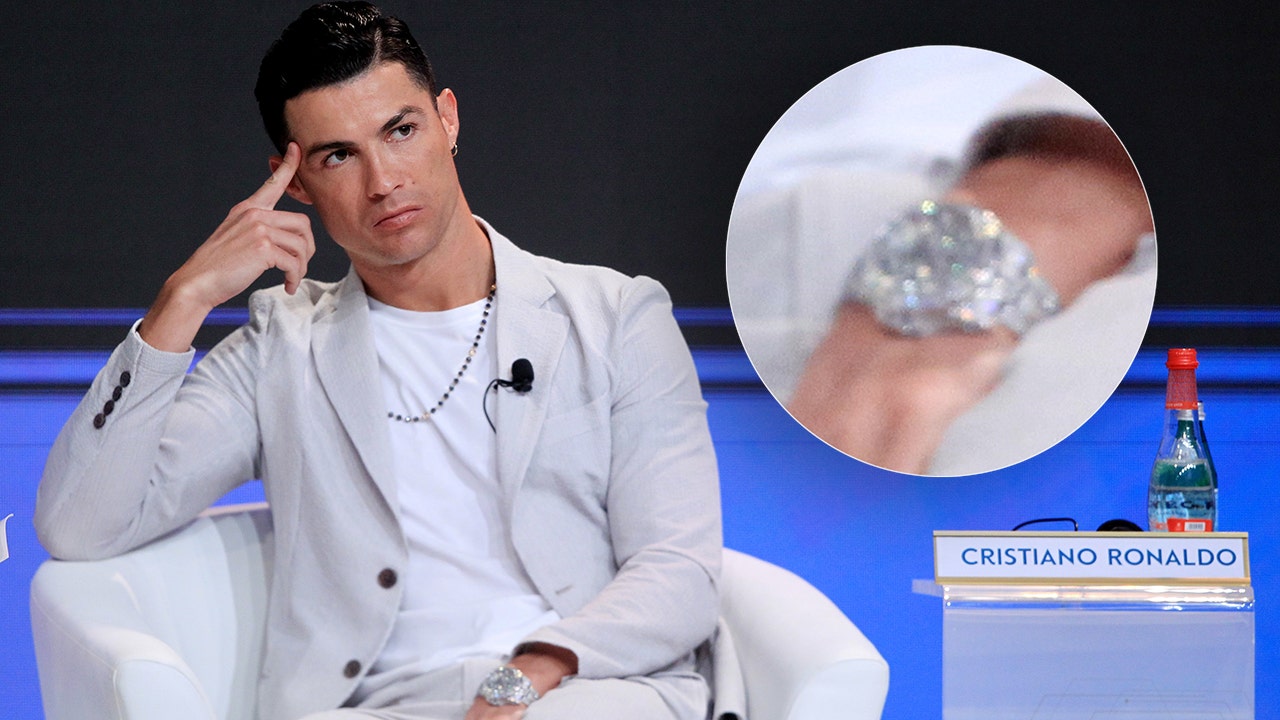 Cristiano Ronaldo wears the most expensive Rolex watch ever made
International football superstar Cristiano Ronaldo was spotted at a sports conference in Dubai on Saturday wearing the most expensive Rolex watch ever made, along with a variety of other expensive jewelry valued at nearly $ 1 million combined.
The 34-year-old Juventus player attended a panel at the 14th Dubai International Sports Conference and casually donned the rare and expensive Rolex GMT-Master Ice, which costs around $ 497,040, reported the Daily Mail.
The GMT-Master Ice is the most expensive Rolex watch ever made, with 18k white gold and hundreds of 30k diamonds.
Ronaldo was also seen wearing a massive cushion-cut canary-yellow engagement ring, valued at $ 261,600, according to London Jeweler's diamond expert Dovi Fehler.
Another ring, a wedding ring valued at $ 65,400, was spotted on the football star's ring finger.
Together, Ronaldo wore jewelry valued at $ 824,040 for the occasion with one hand.
CRISTIANO RONALDO WINS HUGE AMOUNT OF MONEY ON INSTAGRAM: REPORT
Ronaldo is no stranger to expensive and rare jewelry, owning a Franck Muller watch valued at $ 1,569,600.
The Portuguese's Franck Muller watch is described as a "rare and astonishing complication," according to Frost of London owner Joseph Frost, the only British supplier of Franck Muller watches, the Mail reported.
"Ronaldo is a huge fan of the brand and we've seen him wear them regularly," Frost told Femail.
SOCCER SUPERSTAR CRISTIANO RONALDO HAS $ 21M FINE FOR TAX FRAUD
As expensive as Ronaldo's jewelry collection is, the football superstar comes in second to retired boxer Floyd Mayweather, who according to Forbes owns a $ 18,312,000 billionaire diamond tourbillon watch.
Meanwhile, Ronaldo has earned the distinction of being the highest-paid Instagramer of 2019, after making $ 47.8 million on the social media platform this year alone.
Overall, his net worth is around $ 460 million, which makes him one of the richest athletes in the world, according to the Finance Online website. Despite being one of the best earners in the sports world, Ronaldo was fined $ 21 million in January for tax evasion.
GET FOX BUSINESS ON THE GO BY CLICKING HERE