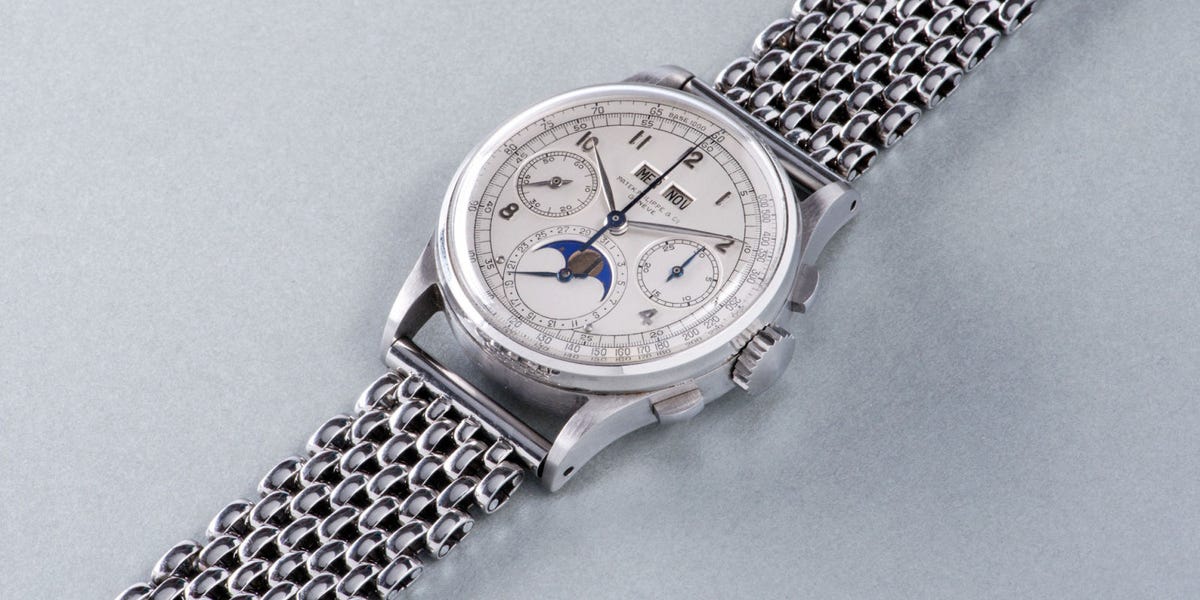 This is the most expensive watch ever sold at auction
For collectors of fine watches, rarity, condition and original details are of utmost importance. Over the weekend in Geneva, one of Patek Philippe's rarest and most admired wristwatches was donated by auction house Phillips, breaking records to become the most expensive wristwatch never sold at auction.
The Patek Philippe ref.1518, a steel perpetual calendar chronograph, sold for $11,112,020. Seven collectors took part; each helps drive the price up to this dramatic new level. The much-anticipated auction far exceeded the original estimated price of $3 million.
Released in 1941 in the midst of World War II, the ref.1518 was the very first mass-produced perpetual calendar chronograph ever, and this particular steel model is stamped "1", making it the first of four known models . Only 281 examples of ref.1518 were made, with most series being produced in yellow gold, 55 in pink gold and only four in steel. Complicated wristwatches like this are usually produced in precious metals, so when a rare model appears in steel, collectors go crazy.
The ref.1518 perpetual calendar chronograph features day and month apertures at 12 o'clock, two sub-dials illustrating a 30-minute register at 3 o'clock and seconds at 9 o'clock, the date surrounding a moon phase indicator at 6. The outer dial of the wristwatch features a tachymeter scale, a device that determines speed by measuring the time it takes to travel a particular distance. Experts believe that the other three steel editions are kept safely in permanent collections, so the appearance of the Patek Philippe ref.1518 will likely be the only time this particular reference is auctioned in our lifetime.
"It was a privilege for me to offer the Patek Philippe reference 1518 stainless steel," says Aurel Bacs, Senior Consultant at Phillips. "It was breathtaking to stand in front of a crowded auction room with over 400 people and 500 other watch enthusiasts from all over the world following the auction online or by phone – it was simply electric."
For Patek Philippe, the bragging rights of being the maker of the world's most expensive wristwatch sold at auction comes at just the right time. Recently announced, the highly esteemed watchmaker will present a major exhibition in New York next summer called "The Art of Watches" from July 13-23. The exhibition will showcase a huge range of watches specially curated at Cipriani 42nd Street, a rare and unique look inside this prestigious Swiss watch manufacturer. The show, open to the public and free of charge, will offer an incredible education on horological rarities and complicated timepieces from the current collection and from the watchmaking museum of the brand in Geneva.
Perhaps this lucky owner of ref.1518 could be persuaded to lend his latest acquisition to the upcoming exhibition – it would represent an impressive next step for an exceptional manufacturer with a long history filled with many.
This content is imported from YouTube. You may be able to find the same content in another format, or you may be able to find more information, on their website.
This content is created and maintained by a third party, and uploaded to this page to help users provide their email addresses. You may be able to find more information about this and similar content on piano.io